Create accurate estimates in minutes with the easy-to-use 1build estimate builder.
Overview:
Estimate builder allows you to create detailed estimates in minutes. The main components of estimate builder are Sections, Sub-Sections, Items and Assemblies.
Sections
Sections allow you to describe broad elements of your project scope. For example, you can use sections to organize your estimate by division (like "00 - GENERAL CONDITIONS") or by room (like "SECOND FLOOR BEDROOM") or simply by trade (like "Framing").
Sub-sections
You can use subsections to create a hierarchy in your project. For example, if you created a section called "Framing" you can then create two subsections to separate your materials and labor scope and call them "Framing materials" and "Framing labor".
Items
Items are the smallest units of a 1build estimate. Items are used to describe highly specific aspects of a job, like materials, labor or equipment. You can use 1build library to find live prices for the most common residential and commercial items. Navigate over to Using 1build's Live Cost Library to learn about how to use 1build library.
Assemblies
Assemblies are combinations of items that are connected by a single measurement. Common assemblies comprise project scope like interior partition walls or concrete pours. To learn more about how to use assemblies, navigate to Adding and editing Assemblies.
How to use: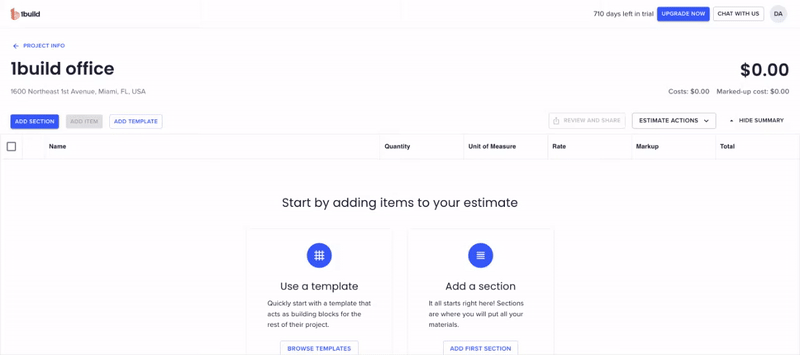 ---
💡 Pro tip: Make sure to add markups, notes, and other information about your items and sections by clicking the "Details" button and scrolling through the sidebar that appears.